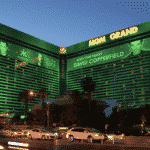 Casinos around the world are starting to divulge their phased reopening plans after the COVID lockdowns. Including MGM Resorts which have just released their opening plans for the Las Vegas Strip. Over 40 new international casinos are also slatted to finish refurbishments or construction within this year but will players be tempted to head back into the casinos or have virtual gaming technology changed the way players gamble for good?
Unlock the big ₹10.000 casino bonus and big bucks at Comeon! 
The New Casino Guest Experience Post-COVID
With regulations easing up on social distancing and casinos starting to announce their reopening dates it will be interesting to see what occupancy rates will look like once everything has reopened. Hundreds of thousands of loyal casino fans have turned to online and live virtual casino games to get their gambling fix and for some players, this may become a permanent fix. New laws will not only require casino employees to wear masks and keep physical distancing measures but customers to wear masks and undergo pre-screenings before entering the casinos. The casino experience will become (although necessary for safety and security) sterilised and the muse that players once had in the flashy casinos will dry up quicker than the new paint on the refurbished walls. Guests will also have drinking time limits to ensure they are following mask procedures. Dealers will be presented behind plexiglass barriers ironically not too dissimilar to a mobile or desktop screen. There will be however new advance technology tested in all major casinos to address contactless payments, entry and playing.
Get Your Casino Fix at ComeOn!
Until casinos get their new protocols underway and the final go-ahead to reopen, ComeOn! is taking good care of their VIP players and taking the casino experience to new levels having engineered the best casino table games into their virtual portal. ComeOn is proudly one of India's best Online Casino and Sportsbetting platforms! With arguably the best customer service experience. They have invested in the best gaming technologies to give players a VIP style casino treatment and high-quality streaming from the comfort of their home.
Team GamblingSam